Of all the peripherals you can purchase for your gaming computer, nothing will provide more value than a gaming mouse.
Yes, you can keep using some cheap 5$ dollar office mouse made by a Chinese company you never heard of. But once you get your hands on a decent mouse you'll never go back to the old days of jittery cursor movement and massive input delays.
For someone who doesn't know what to look for, it's easy to fall underneath the spell of marketing.
Companies like SteelSeries, Logitech, Razer, etc. certainly make great mice. But often, a lot of these are overpriced and bloated with unnecessary features.
You don't have to spend much on your first gaming mouse. Let's go with a budget of 20 dollars, something most of you can afford. So, what's the best gaming mouse under 20 dollars?
Honestly, all you need is a sensor that can keep up with your hand movements, and a shell that is comfortable to hold.
Fancy lights are optional, but they can help you show off in front of friends.
What To Look For While Selecting The Best Gaming Mouse Under $20?
The first thing you want to look for is a mouse that fits your hands. Think about how you hold a mouse, which type of grip you use. Is it a palm-grip, a claw-grip, or a fingertip-grip?
The goal here is to find a mouse shape and size that suits your grip style. By doing so, you'll be able to game longer and won't tire out your hands.
It also prevents long-term damage to joints around the palm and wrist if you use a mouse that comfortably fits your hands.
A smaller mouse will be easier to aim with. But go too small and you end up having to curl up your fingers and palm in a very uncomfortable manner.
A larger mouse lets you rest your entire hand for more relaxed movements, and is good for large sweeping motions that don't require much precision.
Ambidextrous mice will work for both left and right-handed people. There are also gaming mice designed for right or left-handed people. Find one that suits your playstyle and grip.
In A Hurry? Here Are My 7 Top Picks
1. Razer DeathAdder Essential
| | |
| --- | --- |
| Size | Large |
| Grip Type | Claw and Palm |
| Buttons | 5 |
| Interface | Wired |
| Ergonomics | Right-Handed |
Overview
My favorite low-budget gaming mouse, and it's from Razer- a company with decades of history and proven designs that are used by millions of gamers worldwide.
In fact, I am using a DeathAdder Essential while writing this very article. And it has served me well the past 18 months (still going strong).
In the past, Razer used to have quality control issues that resulted in some DeathAdder models using inferior switches prone to fail within a year of usage.
It appears they have long since corrected that. Plus, the sensor in this mouse will wipe the floor with any cheap Chinese-branded mouse at a similar price.
Things I Like
2. Redragon M602
| | |
| --- | --- |
| Size | Medium |
| Grip Type | Claw and Fingertip |
| Buttons | 7 |
| Interface | Wired |
| Ergonomics | Right-Handed |
Overview
Redragon is what I usually recommend to people who are looking for high-quality products but don't want to pay the Razer/ SteelSeries tax.
No worries, this mouse will serve you well for at least 1.5 to 2 years. It might develop problems afterward, and that's normal even for expensive gaming mice that are used daily.
The M602 features a decent sensor and some slick RGB lighting that is easily turned off via software.
If you want to change the DPI, you can use the two top buttons to go up/ down.
The braided cable is tough yet flexible and lightweight, so it doesn't tug on your mouse.
Things I Like
3. RaceGT Ultralight
| | |
| --- | --- |
| Size | Medium |
| Grip Type | Claw and Fingertip |
| Buttons | 7 |
| Interface | Wired |
| Ergonomics | Ambidextrous |
Overview
After the DeathAdder Essential, this would be my next best choice if I wanted a cheap mouse for shooting games.
The RaceGT Ultralight uses a shell design originally popularized by the SteelSeries Sensei, over a decade ago.
And if you want this kind of shape for a really cheap price, the Ultralight can't be beaten (it has a very nice anti-tangle cord too).
There are 2 side buttons that you can use for browsing or assign to macros within games.
If you're an FPS gamer, those two buttons probably don't mean much. But for MOBA players you can use them as item hotkeys/ mic toggle. 
Things I Like
4. BENGOO KM-1
| | |
| --- | --- |
| Size | Medium |
| Grip Type | Claw and Palm |
| Buttons | 6 |
| Interface | Wireless |
| Ergonomics | Right-Handed |
Overview
While there is indeed a wireless DeathAdder, it's too expensive for most gamers reading this article.
I have the perfect solution for you guys. How about an obscure Chinese brand that copied the exact same shape, added a bunch of lights, and drilled holes into the shell to make it lighter?
Meet the BENGOO KM-1, which looks and feels like a DeathAdder. Some aspects of this mouse aren't refined and feel cheap. Such as the side buttons and feet, but they are minor inconveniences.
Things I Like
5. Lizsword Wired Gaming Mouse
| | |
| --- | --- |
| Size | Medium |
| Grip Type | Claw and Fingertip |
| Buttons | 7 |
| Interface | Wired |
| Ergonomics | Ambidextrous |
Overview
It looks and feels like another cheap generic mouse from a no-name brand, which it is.
But the sensor is actually pretty decent based on what reviews I have read. And it has a bunch of buttons, all of which are programmable.
Meaning, you can assign macros or game functions to all of them. Which by the way, is extremely easy to do via the mouse driver software. 
Things I Like
6. EKSA EM100
| | |
| --- | --- |
| Size | Medium |
| Grip Type | Palm and Claw |
| Buttons | 7 |
| Interface | Wired |
| Ergonomics | Ambidextrous |
Overview
When I first saw this mouse, I thought "that's just a Logitech G300s with a different logo". So I went and looked it up, confirming my initial suspicions.
It's like they took a G300s shell, swapped out the existing sensor for a cheaper one (that still works fine), and sold it as a brand-new product.
Hey, I'm not complaining- the shape is actually pretty comfortable. And I like the grippy rubberized texture they put on both sides.
However, the clicks aren't as tactile or responsive as you'd expect.
Things I Like
7. UHURU WM-8
| | |
| --- | --- |
| Size | Medium |
| Grip Type | Claw and Fingertip |
| Buttons | 6 |
| Interface | Wireless |
| Ergonomics | Ambidextrous |
Overview
This is the cheapest wireless mouse I could find that isn't completely terrible.
Yeah, the latency is quite noticeable if you're playing competitively and ranked high on the ladder.
If you compare this to even a basic wired gaming mouse, the difference in input lag is obvious.
But it looks cool, has a comfortable ambidextrous shape, and is very light even when loaded with batteries.
For playing AAA story-driven games that don't require split-second reaction times, it's perfectly fine. And you don't have to worry about wires.
Things I Like
Understanding Gaming Mice | A Detailed Buying Guide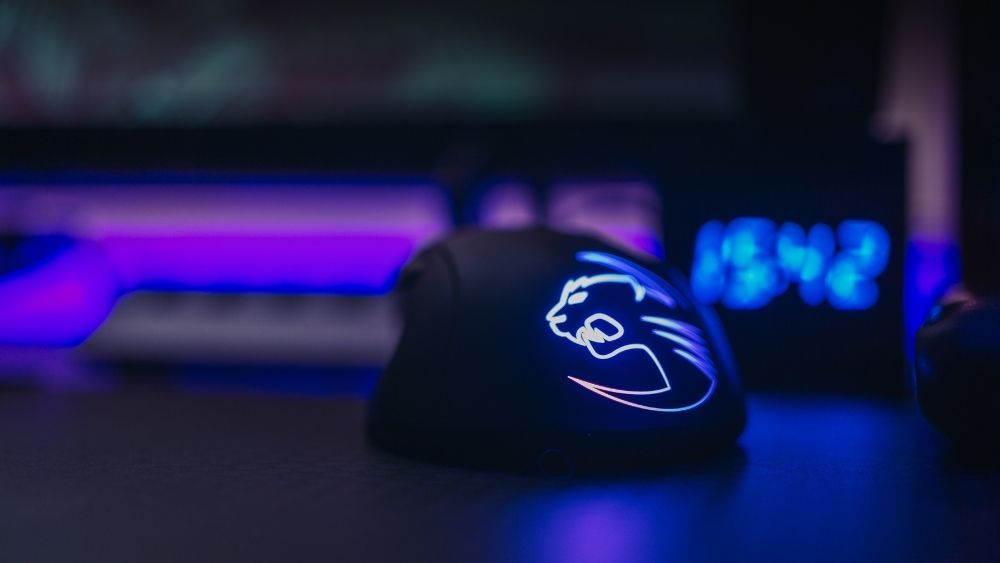 Clearly, shape and feel are extremely important when it comes to selecting a gaming mouse.
It doesn't matter how expensive or flashy-looking a mouse is unless you're comfortable and confident while aiming with it.
Granted, there is an initial "break-in" period during which your hands and brain adjust to the new device.
You evolve your grip and movement, making minute adjustments as you gain more experience by playing with a new mouse.
But some shapes are just not for you. Ideally, you want to go with the mouse that looks or feels the most comfortable to hold.
As I mentioned earlier, smaller mice are easier to aim with. But you don't want one so small that it feels like threading a needle through a sieve.
If you are a palm grip user, a mouse with a longer body and high will serve you well.
Size Matters
As a general rule of thumb, you want a mouse that is about 60% the size of your hand. Especially with claw and fingertip grips, which are the most popular.
Palm requires a slightly larger mouse, so keep that in mind when you select which model to buy.
You can take measurements of your hand with the palm laid out flat on a piece of paper. All fingers should be touching each other. With a pen or pencil, make an outline of your hand.
Then, measure the distance between your thumb knuckle and little finger knuckle. This is your hand width.
To measure length, go from the base of your palm (where it meets the wrist to the tip of the middle finger.
Once you have hand length and width, multiple each figure by 0.6 to get an approximation of how wide and long your ideal mouse should be.
For instance, let's say your hand is 18cm long and 9cm wide. So your ideal mouse should be 10.8 (18×0.6)cm long and 5.4 (9×0.6)cm wide.
Clicks Should Feel Good
One gripe I and many others have with cheap mice is the terrible clicks.
Both the left and right-click feel like pressing down on a thin cardboard sheet that is being propped up by cream cheese. Mushy, with an extremely slow return that makes quick follow-up clicks really hard to execute.
Even the force required to depress these buttons can be super inconsistent.
Sometimes a fly sitting on top will do the job. While at other times it requires the strength of 5 mountain lions to push the button down by 1 mm.
All this comes down to shoddily-built mice that are rolled out of the production line without any thought towards QC or user experience.
When you buy a gaming mouse, pay particular attention to how the switches are designed.
Do you want a stiffer actuation force and longer travel distance or a light click with extremely short travel?
The click should feel tactile and snappy, rather than mushy and sluggish.
Sensor Quality
With proper gaming mice from big brands such as SteelSeries, Razer, Corsair, etc. you don't have to worry too much about sensor type.
All of them use excellent optical sensors that can track your hand movement with 1:1 precision. However, these cheap gaming mice can have extreme variance in sensor quality.
Some use the same sensors that you find in office mice, while others use decent ones that are suitable for gaming.
While gaming, you need precision. And a sensor that can keep tracking even if you're frantically flinging your mouse all around the mat.
Rapid hand motions happen all the time in gaming, and office mice simply stop tracking or making incorrect predictions.
Gaming mice can keep up with the world's fastest hands. And the tracking has to stop as soon as you lift your mouse off the pad (look for a low lift-off distance).
Grip Texture
A good gaming mouse is like a tool, crafted to fit perfectly in your hand for when you need to make those quick flick shots in CS: GO.
We know games can be quite stressful, enough to make you sweat from your palms after a few minutes. That's why most gaming mice have textured sides or rubberized grips.
This is done to make sure you don't accidentally let go of the mouse during a heated gaming session.
Some mouse manufacturers even provide grip tape that you can apply to your mouse. These are available either pre-cut for specific models, or as patches that you yourself can cut.
Frequently Asked Questions
Q: Will a gaming mouse make me better at games?
A: You already know the answer to this one- NO. But a gaming mouse will help you get better, provided you practice. A good gaming mouse complements your skills and provides customization features that regular mice don't have.
Q: How heavy or light should my gaming mouse be?
A: This one is entirely down to personal preference because some actually prefer heavier mice. Lighter mice are easier to aim with, especially if you're playing FPS games.
Q: Do I go with wired or wireless?
A: Unless you're using a proven wireless gaming mouse from a company like Logitech, Razer, Corsair, etc. don't bother.
If this is your first gaming mouse and you don't have a ton of money to spend, just get wired. Plus, wired will always cost less with everything else being the same (sensor, shell, etc.).
Q: Should I invest in a mouse bungee?
A: If your mouse has a really heavy or stiff cord that always catches on stuff around the desk, then yeah. Mouse bungees are cheap and can make your mouse movements feel lighter by holding up the weight of the cord.
Q: Is a gaming mouse with more buttons better?
A: I'll be honest, gaming mice with 15 or 20 buttons on the side don't really appeal to me.
Firstly, it makes the entire package look weird and on top of that you end up with a heavier mouse. Two side buttons are enough for whatever macro/ game function you need, especially in shooters.
But if you're a long-time MMORPG player (which I am not), you will appreciate those extra buttons on mice like the Razer Naga. For most gamers, 2 or 4 side buttons are all you need.
Conclusion
If this is your first time using anything other than a basic office mouse, don't go too expensive with the budget.
Get a basic gaming mouse, make sure it's built well. And when you finally see the difference between regular and gaming mice (even a cheap one), you'll have a better idea of what to look for next time.
I also recommend getting a good pad along with your gaming mouse.
A simple table desk isn't ideal if you want optimal tracking. Use a basic cloth pad, make sure it's the right size for you (small pads if you use high sensitivity, larger pads for low sensitivity).