The Xbox Series X has a ton of raw muscle thanks to its new 7nm AMD APU which packs 8 Zen 2 CPU cores alongside a 52CU RDNA 2 GPU. On top of that, it has a really fast custom SSD system for blazing fast loading times and quick resume.
However, finding this console in stock is pretty hard (at least at the time of writing this article). On top of that, Microsoft is going in a very different direction from Sony as they don't seem to believe in exclusives so much. 
For instance, Halo Infinite is getting both PC and Xbox versions on launch day. Plus, with Game Pass you can access tons of Xbox titles like Forza, Gears, Fable, etc. on your PC.
These days, your Xbox is more like a companion/ game streaming platform for your gaming laptop or desktop. It is a nice device for playing games on your 4k TV in the living room, but sometimes you wish you could also stream games from your Xbox to your PC.
And that's precisely what we'll do in this article- show you how easy it is to stream games from your Xbox to a laptop/ desktop. This works on any Windows 10 device, whether it be a 2-in-1 student laptop or a hardcore gaming machine.
Microsoft owns both Xbox and Windows, they develop many common features simultaneously for both platforms. One of those is the Xbox Console Companion app. 
Go ahead and open up your start menu in Windows 10. There should be an app called "Xbox Console Companion", type its name in the search bar if you can't find this app in the menu.
Assuming you have an Xbox and Wi-Fi in the house, you're now ready to stream games from your Xbox to the laptop. It's really that easy. Read on to learn more.
Why Would You Want To Use Your Laptop Screen For Playing Xbox?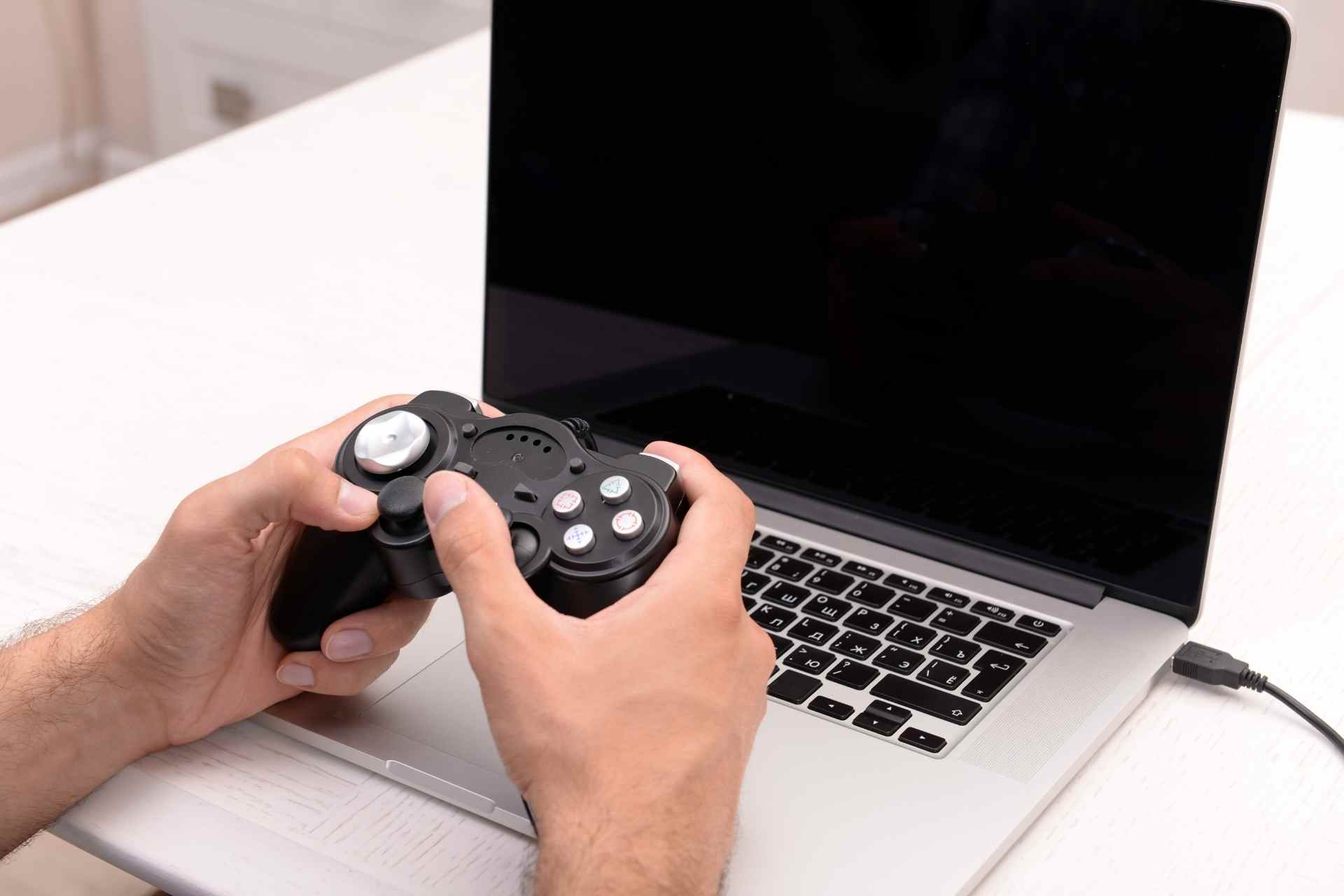 Sure, you have a nice TV set up in your living room or basement for console gaming and movies, but sometimes you just feel like playing right where you are.
With a laptop, you can play Xbox games from the comfort of your bed as long as both your Xbox and laptop are connected to the same Wi-Fi network. Sometimes you feel lazy, other times you just want to multitask if you're already doing stuff on your laptop. 
Or it could be that your family and friends are watching a sports match/ movie on the TV, and you can't just walk in to play your Xbox. The best part about the Xbox Console Companion app is the fact that you don't lose out on the experience of gaming on an actual Xbox with a TV.
Yeah, a laptop has a smaller display. But you get to play wherever you want, in any part of the house. With the Console Companion App, you can do almost everything you would do on the actual Xbox- browse through your games, view friends, achievements, etc. 
How To Play Xbox On Your Laptop | Guide
It's very simple. But first, you have to be using a laptop that's running Windows 10 and it should be connected to the same home Wi-Fi that your Xbox is using.
Open the Start menu and look for this app- "Xbox Console Companion". It has a little green square-shaped icon with a white Xbox inside. Then, you open up the app and look at the bar on the left.
There is a settings icon at the very bottom, with a Connection icon right above. Click on the Connection icon and you will be able to see your Xbox One/ Xbox One S/ Xbox One X/ Xbox Series S/ Xbox Series X.
Remember, this won't work unless your Xbox and Windows 10 laptop are connected to the same Wi-Fi network.
If you can't find your Xbox here, try connecting it manually with the console's unique IP address. Once you're connected, you'll see the Xbox and a few options- stream, test streaming, and more.
Test your connection by running "test stream". It will give you a report at the end, if you see a red cross it means your connection isn't good enough.
Try again, a lot of people see a red cross even when their connection speed is perfectly fine. This app is still in development, so a few stability issues persist.
Once you've tested the connection speed, go ahead and click "Stream". Now, you've transformed your laptop into a display for your Xbox.
Make sure you have your Xbox controller connected, you can connect it with your laptop or the actual Xbox. This is also a very cheap and simple way to stream your Xbox games from your laptop without using a capture card.
Simply have OBS running in the background and capture the feed from the Xbox Console Companion app.
Frequently Asked Questions
Q: What else can I do on the Xbox Console Companion app?
A: It lets you view your in-game achievements and browse through the leaderboards. You can also browse games in the app store and look at trends. If you want you can also join clubs, which are kind of like Steam groups.

Any clips or screenshots that you recorded on your Xbox will be accessible from the app, you can use this as highlight montages for your YouTube channel or social media posts (or just share them with friends).
Q: Do I need a specific Xbox model for using this app?
A: As long as it's an Xbox One/ One S/ One X. The Series X and Series S are not supported at the time of writing this article. And of course, you need a good internet connection.

If the app can't find your Xbox, try entering its IP manually via "add a device". To find the IP of your Xbox One, press the Xbox button and enter into "profile & system". From there, go into Settings > General > Network Settings > Advanced Settings. You should be able to see the IP of your Xbox One. Take this IP address and enter it into the app. 

If you still can't connect, go into Profile & System on your Xbox, then into Devices and Connections. Open Remote Features, then enter Xbox app preferences. Here, enable the setting "Allow connections from any device". If it still won't connect, restart both your laptop and your console. Then repeat.
Remember, you must be signed in to your Xbox with the same gamertag that you're using within the Xbox Console Companion app for Windows 10.
Q: I want to stream games from my Xbox to Twitch or YouTube. Do I need a capture card?
A: Not unless you're serious about streaming, and need a lot of control over your stream settings. For starters who just want to share their gameplay with friends, they can stream directly from the Xbox using its built-in broadcast system. You can also stream from OBS on your laptop or desktop using the feed from the Xbox console companion app.
Conclusion
Since Microsoft develops the Xbox and Windows operating system, it should come as no surprise that they already have an app that lets you stream from your Xbox to a Windows 10 laptop or desktop.
At the time of writing this article, the new Series X and Series S aren't supported. You'll have to download a dev-only test app called the Xbox Game Streaming App from the official Microsoft store which is primarily intended for developers.
By the time you're reading this article, they might have released Xbox Series X/ S streaming functionality within the Console Companion app itself.
If you own Game Pass Ultimate, you can play several Xbox games directly on your PC. Some games support Xbox play anywhere which means you can play the same copy of the game on both PC and Xbox without any additional purchases. 
Your save files will be synced between your console and your gaming laptop/ desktop. Read this article from digitaltrends.com if you wish to learn more about this topic.