Dynasty Warriors: Gundam is a dream come true for Gundam fans. This game series was a collaboration between Bandai Namco, Gundam Series, and Omega Force's Warrior series. This was the first Warrior series collaboration that was seen.
The main concept of Dynasty Warriors: Gundam games was to create a whole new experience for the Gundam fans due to its popularity.
After seeing the popularity rising, they contacted Koei to craft the best possible game to serve the Gundam universe. But today, we are going in a different direction.
This list will contain the Dynasty Warriors: Gundam games ranked from worst to best.
Are you ready to see what each of these games brings to the table for us? And which is the best DW Gundam game that you should play? Let's find out.
4. Dynasty Warriors: Gundam Reborn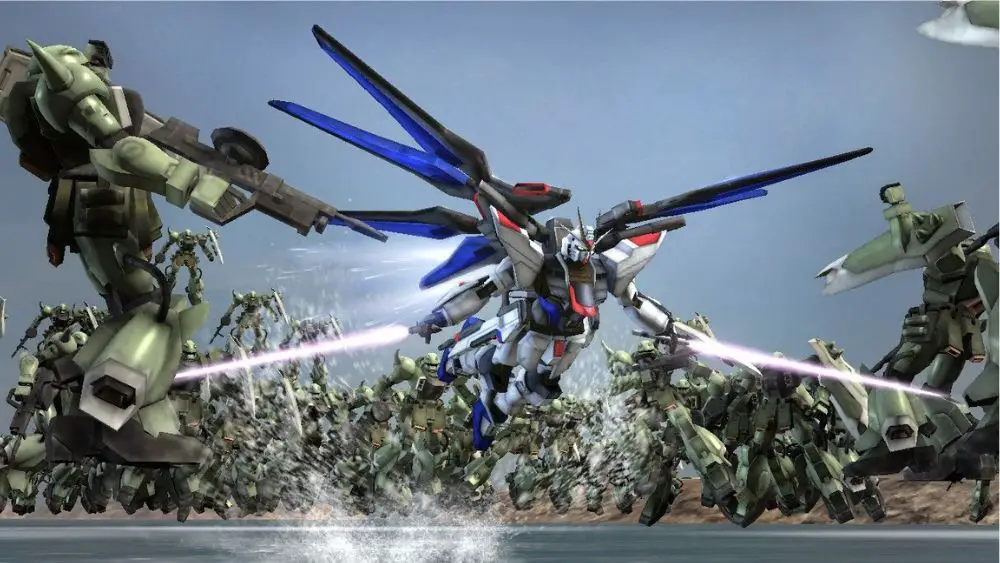 | | |
| --- | --- |
| Developer | Omega Force, Koei Tecmo Games, Koei |
| Release Date | December 19, 2013 |
| Platforms | PlayStation 3, PlayStation Vita |
DW: Gundam Reborn is a full-of-life 20-hour Gundam craziness type of experience. The combination of Dynasty Warriors and Gundam, the two most popular things in Japan at the time, made this Gundam game wild.
You'll play as a Gundam warrior who'll fight for his way, capture land, take on a lot of battles and fight a ton of enemies in this process.
On the other hand, you're looking at a wide array of characters and with the retelling of events from the official multiple timelines of Gundam, you'll be getting an all-in-one package.
An interesting aspect about Gundam Reborn is the fact that it's very popular among fans but not popular among a lot of gamers.
Gundam Reborn incorporates the events from Gundam SEED, SEED Destiny, Zeta Gundam, and more, so it makes sense why the game is popular among avid Gundam fans.
Gameplay
The official mode in Gundam Reborn contains short missions with amazing voice acting and flawless subtitles.
The gameplay itself is very near to your standard Dynasty Warrior games. As an average Gundam fan, you're going to sit in your Mech, blaze through the war, defeat a ton of enemies, and capture land all to restore the balance. 
When we talk about the gameplay, it's just you rushing through the map to defend various areas, save a lot of people that are in danger, and save ships to defeat enemies.
You are going to look at over 100 Gundams and amazing characters that'll assist you throughout the game. All in all, DW: Gundam Reborn is good but it's far from the best Gundam games of all time.
3. Dynasty Warriors Gundam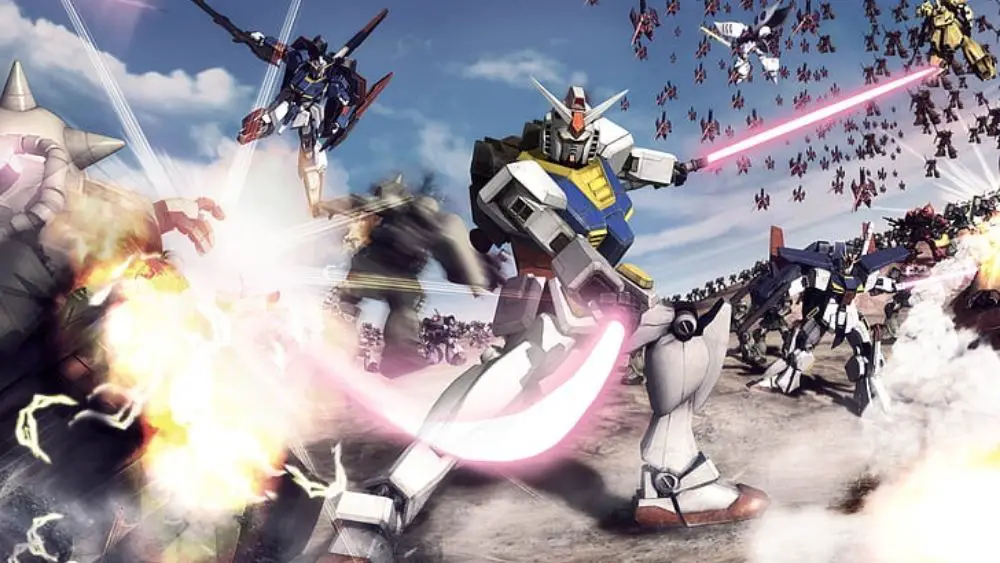 | | |
| --- | --- |
| Developer | Omega Force, Koei Tecmo Games, Koei |
| Release Date | March 1, 2007 |
| Platforms | PlayStation 2, Xbox 360, PlayStation 3 |
Another title by Bandai Namco and Koei, this Gundam game walk right into the footsteps of the Dynasty Warriors game.
If you love the classic Dynastic Warriors game and are a fan of Gundam, then this first part of DW: Gundam will be a snack for you.
In Dynasty Warrior, you're going to be in charge of a single robot that will be aligned to one of the various factions that the game has. In other words, you pick a pilot, then you pick your mobile suit, and now you're getting set to kick the butt of enemies.
The gameplay goes in a rather simple way too. You cut hundreds of enemies, go through a lot of difficulties to win areas or "Fields".
Gameplay
After killing hundreds of enemies and destroying tons of forces, you're good to go for your next mission.
However, if you're trying to play the game and understand its storyline without having any Gundam knowledge, then this might be a challenge to you.
You'll be protecting a lot of ships, areas, people, and simply destroy a lot of enemies to take on various fields for your faction.
All in all, this classic Gundam game coupled with Dynasty Warriors will give you one hell of an experience.
2. Dynasty Warriors Gundam 2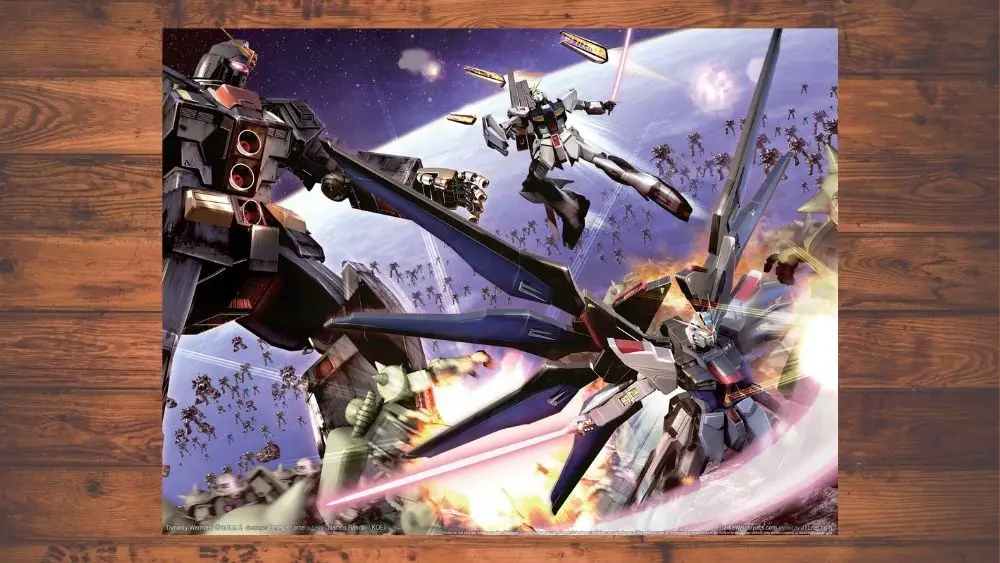 | | |
| --- | --- |
| Developer | Omega Force, Koei Tecmo Games, Koei |
| Release Date | December 18, 2008 |
| Platforms | PlayStation 2, Xbox 360, PlayStation 3 |
One of the most well-crafted and polished DW Gundam games, this game is great until it isn't.
I mean, even though Gundam 2 managed to avoid the unlimited amount of bugs that the Dynasty Warrior Gundam games are known for, there were still some bugs here and there.
You can still move over your enemies by simply forcing through an area and this might seem like a hack but it's just the way that this game operates.
Gameplay
Just like the previous Gundam, the Gundam 2 is fairly easy to get used to and you'll easily get familiar with the workspace and gameplay if you've played a Dynasty Warriors game before.
Hitting three normal attacks and finishing with a charge attack will execute a special move that'll destroy the enemies.
All in all, Gundam 2 seems like it might be better than the original Gundam, however, it can be a step backward in a lot of things too.
1. Dynasty Warriors Gundam 3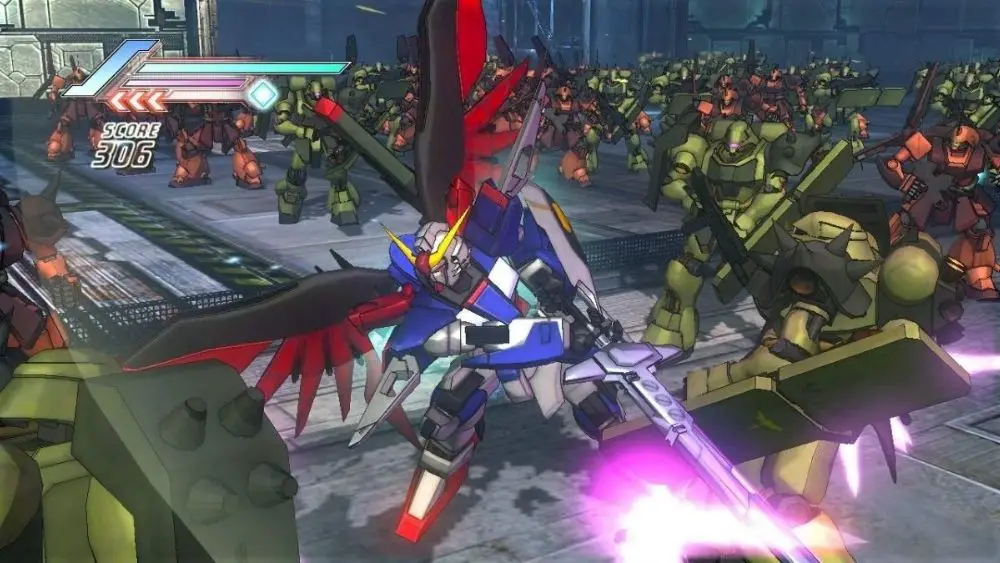 | | |
| --- | --- |
| Developer | Omega Force, Koei Tecmo Games, Koei |
| Release Date | December 16, 2010 |
| Platforms | Xbox 360, PlayStation 3 |
Just like all the other DW Gundam games, Gundam 3 is very similar.
If you're looking for something otherworldly or innovative when it comes to the gameplay, Gundam 3 might not be a cup of your tea.
However, we can't say that it's bad. It's just too similar to the other DW Gundam games. That's all.
In DW Gundam 3, you're a warrior and a robot, who must fight other robots to win.
The graphics are absolutely stunning and this time, you also get a chance to heavily customize your Gundam, you can choose the special skills, and you can customize your character to match your ideal fighting style.
Gameplay
Gameplay-wise, it's the same old Gundam experience where you must destroy your enemies to proceed.
There's an online and offline mode that makes this part interesting and with hundreds of customization options, you're not missing out on that part.
Conclusion
Dynasty Warriors and Gundam combined together is a name that's familiar to a lot of us.
But if you want to find out the best DW Gundam Game, it's Dynasty Warriors Gundam 3 in my opinion.
But our opinions can differ and that's okay! What do you think is the best Dynasty Warriors Gundam game? Let us know in the comments down below!