Risen is an action-RPG game loved by many gamers out there. It was developed by a popular studio called Piranha Bytes and got published by Deep Silver studio.
There are three parts of Risen and people have mixed thoughts about each.
Risen 1 was announced first, then 2 and 3 were the sequels to that part. Risen has a pretty unique setting for an action-RPG game and it does resemble Gothic Studio games, to say the least.
So if you're confused about which Risen game you should play first, which Risen game is the best, don't worry, we've got you covered. Let's find out.
3. Risen 3: Titan Lords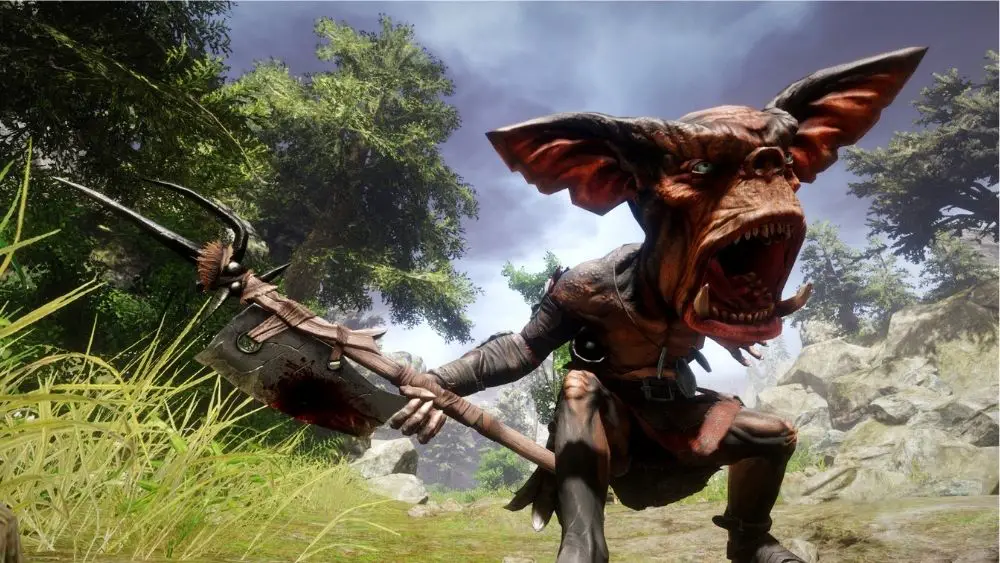 | | |
| --- | --- |
| Developer | Piranha Bytes |
| Release Date | August 12, 2014 |
| Platforms | Microsoft Windows |
Do you want to live an old Pirate life? In that case, Titan Lords will provide you with a great gaming experience.
There are moments of superb adventure and the game has decent combat and skill systems.
On the other hand, the story is kind of bland, pretty much leaving your gaming experience in awe which ultimately becomes an empty experience.
Story-wise, there's not a lot to love about Risen 3's campaign mode, it's the same old story. You have to visit islands, join one of the three factions, and kick some serious butt.
After interacting with some NPCs, you'll be living a quiet life since there's no need for the NPCs anymore.
It's kind of sad how you won't be able to listen to their stuff. However, the place where Risen 3 takes the lead is in the visual department.
The game has great visuals especially considering the environment. 
Wildlife is something that'll keep catching your attention no matter where you go.
The sea fighting experience is something that'll also make you go crazy.
Fighting the enemies, using strategic elements to destroy the enemy ship, you're going to fire a lot of cannons in that regard.
All in all, Risen 3 looks like a game that had the potential but due to the poor presentation of the game, it kind of fell off.
But don't get me wrong, there's a lot to love about this game too.
You're going to explore a lot of islands, experience iconic swordplay, and partake in combat that'll keep you wanting for more.
On the other hand, Titan Lords is probably the worst Risen game of all time.
2. Risen 2: Dark Waters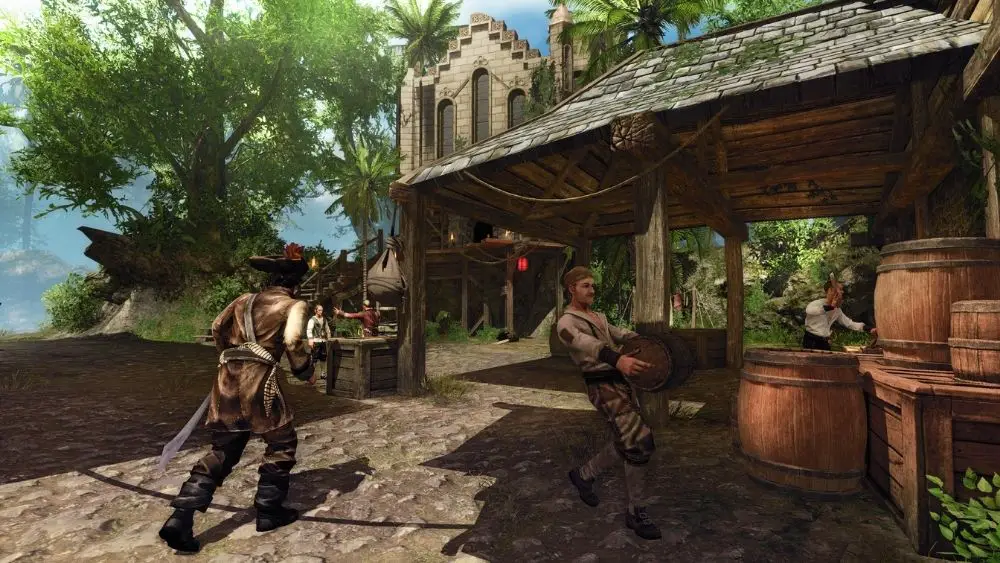 | | |
| --- | --- |
| Developer | Piranha Bytes, Wizarbox |
| Release Date | April 24, 2012 |
| Platforms | Microsoft Windows, Xbox 360, PlayStation 3 |
Risen 2 was the second Risen series that was released in 2012.
With its vast worlds, the game makes a great single-player MMORPG game. However, it's not perfect either.
There's a lot to unfold about Risen 2 since it does a lot of things right and the others… not so good.
After Gothic 3 was a mess for Gothic Studios, Piranha Bytes decided to say goodbye and make their next project under the Deep Silver studio.
Their whole focus on the Risen series was to take the best elements from the Gothic series and incorporate some new ones to make Risen an iconic action-RPG game.
The results? Well, while it's not the best open-world experience, compared to the Gothic series, Risen 2 does a lot of things right.
This time, there's a vast area to discover but nowhere near as vast as Gothic. The game is more objective-focused and the combat system has improved a lot too.
Also known as Dark Waters, it was quite a smart move to distinguish different Risen games. When it comes to combat, you're not missing out on anything.
From bows to magic, you're going to get a great fantasy experience too.
The story of Risen 2 incorporates you fighting a dangerous water monster. You must find the bits and pieces to build artifacts and the studio does a great job in making each quest challenging.
NPCs are surprisingly smart but be ready to expect racist remarks and a lot of curse words. 
A lot of people thought that Risen 2 fell off when it was time to fight the final boss. It is one of the most boring experiences ever and fighting the boss itself seems like a waste of time.
The adventure factor of Risen 2 is also not the best compared to Risen 3 and 1 but it's full of inconsistencies.
Sometimes, the game is fun and beautiful. On the other hand, it can become hellishly boring.
1. Risen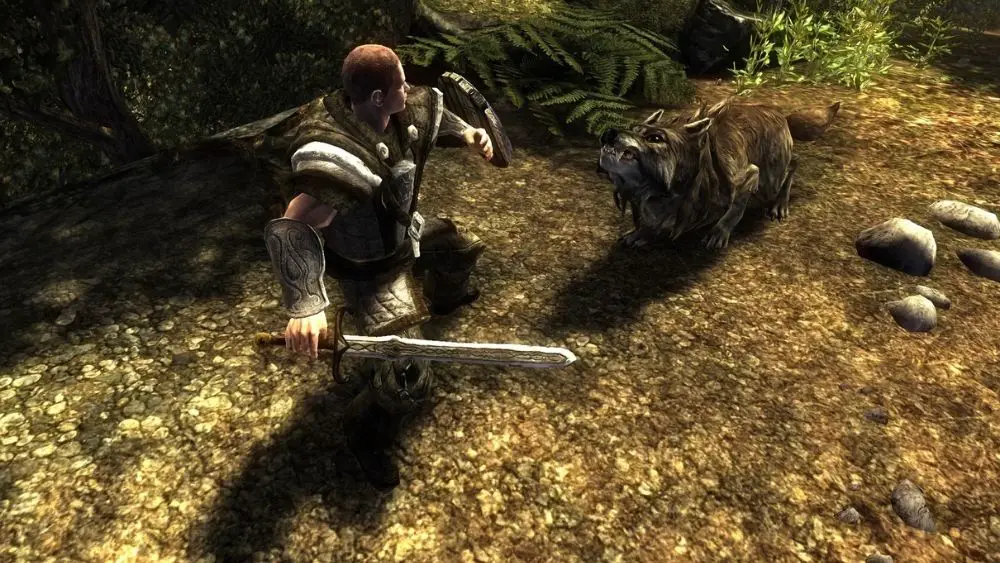 | | |
| --- | --- |
| Developer | Piranha Bytes, Wizarbox |
| Release Date | October 2, 2009 |
| Platforms | Microsoft Windows, Xbox 360 |
The original Risen is still loved to this date. The sky and land are full of deadly enemies and there are beasts trying to destroy you everywhere.
Risen will make you question reality and your sanity since it's pretty interesting and hard at times. How are you going to defeat the giant monster without getting stomped by it?
The game is pretty user-friendly and you'll surely get a bunch of kickass action gameplay as opposed to other Gothic or Risen games.
However, if you're a newbie into action-RPG gaming, consider yourself blessed since this is an amazing one to start with.
On the other hand, a little more guidance would've made Risen a great game overall but the combat system makes you not want to focus on the cons.
When Risen was about to be released, Piranha Bytes recognized the problem of a lot of technical bugs and decided to fix it upon the release of Risen which seemed like an excellent move.
As this is an adventure game, you'll be impressed beyond words to see the sounds and visuals of the game.
All in all, Risen 1 is the user-friendly version of Gothic but it definitely takes the cake when it comes to filling the story with hardcore RPG experience.
On the other hand, if you're a Gothic fan, you're going to be absolutely stunned by what this franchise has to offer. All in all, Risen 1 is the best Risen game of all time.
Conclusion
Risen is an excellent fan-favorite RPG series that has to offer beyond what Gothic could have ever done.
If you are going to try this series out, then Risen 1 or Risen is the best choice.
Risen is the first series that was launched but it is undoubtedly a great game from the trio.