When you're shopping in the market for a good gaming laptop under $600, there are a few things you need to look for.
A good FHD display, proper storage in the form of an SSD, and features like backlit keyboards or Type C ports. Check this buying guide to learn further.
You won't find much in the way of dedicated graphics cards at this price.
We've done the research, and concluded that for optimal gaming performance at this price nothing beats the ASUS VivoBook 15 F512DA-NH77. Read on to find out why.
ASUS VivoBook 15 F512DA-NH77
Sleek and stylish, VivoBook laptops have always been an excellent choice for anyone in need of decent performance without breaking the bank.
And the model F512DA-NH77 continues that trend of affordable performance with its AMD Ryzen 7 3700U octa-core processor. This is not the "H" variant, so SMT is turned off and you get 8 threads total.
But that's still way better than a quad-core with hyperthreading or SMT and on par with a 6-core 12-thread chip in most games.
And while there's no dedicated graphics, it sports a pretty impressive iGPU in the Vega 10 which has a max clock of 1400Mhz. That's not bad at all, it's almost on par with some low-end dedicated mobile GPUs from a few years ago (like the MX150).
Of course, the implementation of the hardware will be different depending on which brand and model you get.
For instance, some manufacturers will lock down the 3700U to a lower TDP, which limits its iGPU clocks. Others will use single-channel memory or slower memory which also negatively impacts iGPU performance.
The VivoBook has a single stick of DDR4 RAM, in the user-upgradeable slot. And out of the 8GB, 4 is soldered onto the board. So you can upgrade the laptop to a maximum of 20GB if you use a 16GB stick of DDR4.
Which Games Can I Play On This Laptop?
Tomb Raider (2013)
Call of Duty: Modern Warfare 2
FIFA 20
PUBG Lite
Hunt: Showdown
Yakuza 0
Note: We recommend you play these games at 720p low settings to get 30+ FPS.
Pros
Sleek, modern design with thin bezels and a nice gray matte finish
The keyboard is full-size, backlit, has good key travel, and is overall very comfortable to type on
88% screen to body ratio, 15.6" FHD display
AMD Ryzen 7 3700U octa-core processor
8GB of DDR4 2400Mhz RAM
512GB PCIe SSD, which is pretty good for a laptop in this price range
Fingerprint sensor and Windows Hello
Ergonomic lift hinge which slightly angles the keyboard for a better typing position
802.11ac Wi-Fi and USB Type C
Cons
Fan gets quite loud if you're gaming or doing any hardware-intensive stuff like encoding, 3D modeling, etc

The display isn't very bright and the colors are mediocre, for this price it should have an IPS panel
Lenovo IdeaPad 3 81W0003QUS
Lenovo has nailed all the basics with this one- a good processor, a decent display, a keyboard that's comfortable to type on and doesn't feel cramped, a large and highly precise trackpad, good cooling ,and solid built quality.
That's all included in the package when you purchase an IdeaPad 3, since this laptop was designed to be a no-nonsense, portable machine for office professionals and college students.
Nothing really stands out on the IdeaPad 3. It's display is good with decent viewing angles, but the brightness and contrast are very unexceptional which makes it subpar for photo and video editing (although it's still perfectly fine for gaming).
The Ryzen 5 3500U is an excellent 4 core, 8-thread processor but it falls short of the newer Ryzen 5 4500U in both single and multi-threaded workloads. The battery life of around 6hrs means you have to carry the power brick around with you in the backpack wherever you go.
Then again, there are no super obvious weak points on this laptop, everything is just so well-balanced. It's sleek, light, well-built, and affordable. The keyboard is tenkeyless, which leaves plenty of space to include larger keycaps and more space between each key.
As a result, the layout doesn't feel cramped and unless you really want to work on spreadsheets, the tenkeyless design won't be an issue for most users. The side bezels are super slim. However, the chin is gigantic.
Which Games Can I Play On This Laptop?
Call of Duty: Black Ops II
Apex Legends
Fortnite
PUBG
CS: GO
Dota 2
League of Legends
Valorant
Total War Warhammer II
Pros
Ryzen 5 3500u 4 core, 8-thread chip built on the 12nm process offers good multithreading for casual Premier Pro and Blender usage
Vega 8 iGPU with a maximum clock of 1200MHz performs well in games, as long as you play at low settings and 720p resolution
Great keyboard and trackpad, for the price
Speakers are loud and are tuned well for mids and highs (forget about bass on laptop speakers, especially ones that are this cheap)
Despite being constructed almost exclusively from ABS plastic, the laptop feels very rigid. The palmrest and display don't bend or creak when you use them.
Full size SD card slot
Cons
Slow DDR4 memory holds back the iGPU from hitting its true potential

Out of the 8GB RAM that comes preinstalled in this laptop, only 4GB is user upgradable as the other 4GB is soldered to the mainboard

Mediocre webcam

Wi-Fi 5 and Bluetooth 4.1
HP Laptop 15-ef0022nr
When you visualize the words "budget laptop", this is exactly what comes to mind- a plain looking white HP 15" notebook. It doesn't stand out in way whatsoever, and is the ideal choice for people looking to maintain a low profile while also packing enough muscle to go through almost everything an average user throws at it.
The Ryzen 7 3700U is a bit on the older side, since it's a 3rd generation Ryzen chip and it doesn't have the single threaded performance of a Ryzen 4000 series mobile chip. However, 8 threads should still be more than plenty for anyone looking to work on word docs, spreadsheets, presentations, etc. while doing some light gaming on the side.
You can even edit photos and videos if you want, although the display on this laptop isn't the most color accurate. It does have a HDMI output, so you can hook up an external monitor for such tasks.
Battery life is between 6 to 7hrs with moderate usage and low brightness. Gaming performance isn't half bad either despite the lack of a dedicated GPU, thanks to the Vega 10 iGPU which clocks up to 1200MHz and has 10 Vega CUs.
The keyboard has some good feedback with clear, crisp keypresses and it even has a numpad for all you spreadsheet warriors out there. The trackpad supports Windows precision drivers and isn't nearly as good as what you'd find on a premium laptop, but it will get the job done.
Which Games Can I Play On This Laptop?
Yakuza 0
Hunt: Showdown
Witcher 3
Sekiro
Tomb Raider (2013)
Mortal Kombat 11
Call of Duty Warzone
Pros
Good processor with 4 cores and 8 threads for everything from light gaming and browsing to photo and video editing
Vega 10 iGPU can handle games such as Call of Duty, PUBG, etc. on low settings and 720p resolution
Bootup and program load times are short, thanks to the 256GB NVMe M.2 SSD
Full size backlit keyboard
Loud top firing stereo speakers
Cons
Display resolution is just 768p

2400MHz RAM speed holds back the Vega 10 iGPU's performance

Non upgradable RAM
HP Pavilion X360 2-in-1
An Intel Core i3-1005G1 doesn't scream "gaming performance" but that's not the point of the Pavilion X360 2-in-1.
If you want pure gaming performance, you're looking in the wrong price bracket. You need to check out laptops in the 700 to 800 dollar range if you want a true gaming machine with dedicated graphics.
Under 600 bucks is where you'll get Intel i3 and i5 laptops, maybe the occasional Ryzen 5 or Ryzen 7 with Vega integrated graphics.
But it doesn't always have to be boring, for instance- the X360 is a laptop designed for content creators and students on a budget.
It lets you draw, take notes, play casual games, watch movies, and do pretty much anything you'd normally do on a tablet.
It has a 14" touchscreen (which is, unfortunately, 768p) and a decent chunk of RAM. The 128GB SSD doesn't provide a lot of capacity, but it sure beats eMMC storage in terms of speed and reliability.
The Pavilion X360 is more than just its internal hardware, this is a really well-built machine that looks and feels way better than it costs.
So don't judge it by its display resolution and processor speed, instead consider the complete package. Think of it as an experience, everything from the keyboard to the trackpad and even the audio quality is far better than most laptops at this price point.
Which Games Can I Play On This Laptop?
Minecraft
Among Us
Fall Guys
League of Legends
CS: GO
Battlefield 3
Pros
An extremely versatile design, it can be used as a work laptop or entertainment device. Also works great as a student laptop
Intel Core i3 1005G1 Ice Lake processor with 2 cores and 4 threads, built on Intel's own 10nm process- extremely efficient little chip
Perfectly adequate for casual gaming and everyday computing, thanks to the zippy little i3 and 8GB of DDR4 RAM
128GB SSD, beats having a slow HDD or eMMC storage
14" touch display with decent colors and viewing angles
Has USB Type A, Type C, HDMI 2.0 output, and a media card reader
Just 0.71" thick, looks excellent with its dual-tone silver + matte black finish
The keyboard and trackpad aren't exactly top-notch, but they are significantly better than what you get on most laptops at this price point
Cons
Display resolution is just 768p, which is rather low for a laptop of this price in the current year
Windows 10 is in S-mode
Dell Inspiron 15 3000
There isn't a whole lot to talk about here, come on- it's a Dell Inspiron. One of the most popular student and business laptop models across the world.
It's used by college students, teachers in schools, doctors, shop owners, etc. People who want a cheap laptop for everyday computing get a Dell Inspiron because it is built well enough that it doesn't fall apart if you handle it a little roughly.
And it is cheap enough so you can gift it to basically anyone who isn't too tech savvy but wants a mobile device for stuff like social media, Youtube, eBooks, etc. Like your mom, grandpa, uncle, etc.
The Inspiron 15 3000 we're reviewing today isn't a slouch in terms of performance since it packs an Intel 10th generation i3 processor.
So it will handle stuff like web browsing and MS Office without even breaking a sweat. The battery life is pretty solid too, thanks to the 10nm dual-core chip. You easily get 8 hours or more with light usage.
And the screen is a nice 15.6" so movies and photos are a pleasure to view. The only real downside is the 768p resolution. Which is a bummer, especially at this screen size.
Which Games Can I Play On This Laptop?
Deus Ex: Human Revolution
Tomb Raider (2013)
NFS Hot Pursuit (2010)
Rocket League
CS: GO
Valorant
Pros
Basic yet sleek and stylish, plus it's very affordable considering the specs you're getting
Good full-size keyboard with ample key travel and a soft textured plastic palm rest
Well positioned, relatively large trackpad which feels snappy and precise
Intel 10th generation Ice Lake i3 processor, built on a 10nm process which makes it very efficient
Good battery life, not a whole lot of fan noise
8GB DDR4 RAM and a 256GB PCIe SSD
Windows 10 Pro has additional features for business/ enterprise users
Cons
Display straight up looks like something from 2012, with its fat bezels and 768p resolution

Mediocre webcam
THINGS TO TAKE INTO CONSIDERATION
Differentiating Between A Regular And Gaming Laptop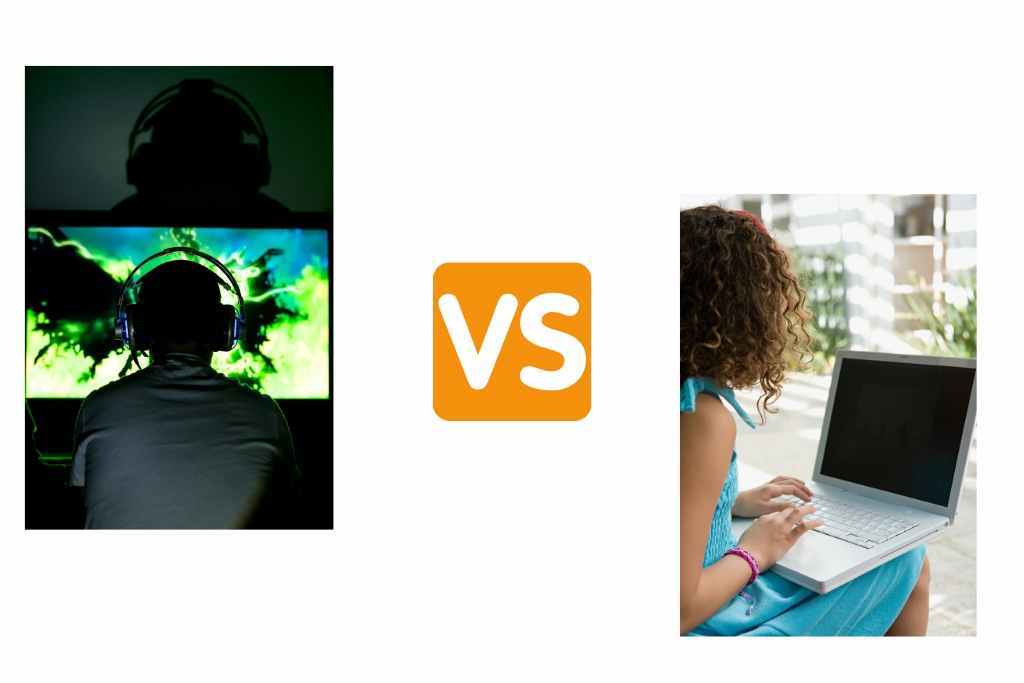 Unless you're shopping in the 800+ dollar range, most laptops are going to be standard designs without the fancy features found in dedicated gaming models.
But does that mean you aren't going to get the proper gaming experience with a regular laptop?
Not really, since all that matters for gaming is the hardware within your laptop.
As long as you get the best possible CPU + GPU combo at a given price, you should be good.
But gaming does put sustained stress on the processor and graphics card, making both of them run at high load levels for several hours at a time.
This is why dedicated gaming laptops like the ASUS ROG and Acer Predator series have optimized cooling solutions in the form of dual fan setups with dedicated copper heat pipes for both the CPU and GPU.
Gaming laptops are also equipped with keyboards that are better designed to meet the needs of gamers- quicker key presses, tactile feedback, and customizable RGB lighting.
One of the most important things you can do is purchase a laptop based on the types of games that you play.
If you're interested in esports titles like Dota 2, CS GO, Overwatch, etc. the CPU will be more important than the graphics card.
For AAA gaming, the graphics card is a bigger determining factor.
What Type Of Work Are You Looking To Do?
Some people only game on their laptops, while others do a bit of everything- movies, photo editing, social media, etc.
Each application has a different set of hardware requirements. For instance, if you want to play Deus Ex: Mankind Divided at 1080p 60 fps it is going to require a beefy graphics card like a GTX 1060 or above.
On the other hand, Photoshop and Premiere Pro are more reliant on the processor and RAM.
A Core i7 or Ryzen 7 2700u is what you need for editing videos on your laptop, along with 8+ GB of RAM and a fast SSD.
For streaming Netflix shows and watching movies, you need a 1080p IPS display. A higher resolution IPS display is also preferable for content creators.
A high refresh rate display on the other hand, is preferred for gaming even though it might not have the best colors or resolution.
Portability and battery life are extremely important for back to school laptops, where you don't need the most powerful hardware.
For schoolwork and office presentations, any 8th gen Core i5 coupled with 8GB of RAM and a 256GB SSD should be enough.
The bottom-line? Choose the right laptop for your specific needs.
Finding The Right Balance Between Portability And Performance
We believe 2-in-1s with touchscreens provide a nice balance of portability and performance, allowing you to transition between laptop and tablet mode with ease.
You can write a lengthy 20-page thesis on a 2-in-1, or fold it up into tablet mode for browsing through your Twitter feed.
For school or college laptops, you need plenty of battery life and a nice keyboard. An SSD is also important for running CAD software or MATLAB.
Bulky gaming laptops aren't the best choice for college, since they run out of juice within 5 to 6 hours and require you to carry a heavy power brick.
To Touch, Or Not To Touch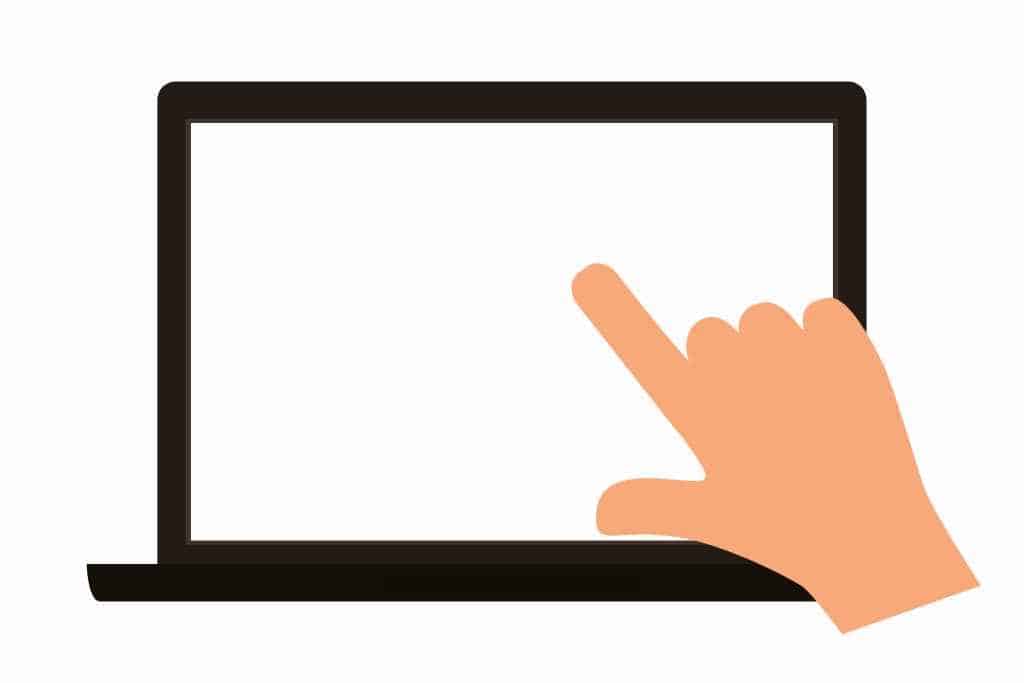 Touch laptops have been gaining popularity since the last 3 or 4 years. They aim to offer the productivity of a traditional laptop computer, combined with the convenience and streamlined user experience of a tablet.
We recommend that you purchase a 2-in-1 instead of a regular laptop that is just equipped with a touchscreen.
A 2-in-1 allows you to use the laptop in regular mode for tasks like gaming and work, or tablet mode for streaming movies and posting on social media.
Some laptops like the Microsoft Surface also have detachable keyboards, with all the processing hardware contained with the display unit itself.
This allows you to transition between tablet and laptop mode much more seamlessly, since 2-in-1s are typically much thicker and heavier than actual tablets.
While Windows 10 does support touch-based applications and was designed with touchscreen PCs in mind, not all of its features are touch friendly.
For example, the Windows file explorer is still hard to navigate and use with your fingers. However, the settings menu is quite touch friendly with its large sliders and buttons.
So there will always be this clash between touch friendly and regular applications that were designed for mouse and keyboard.
Chrome OS is much more uniform when it comes to support for touch devices.
Apple refuses to integrate touchscreens into the MacBook. Their Mac OS UI simply isn't designed for touchscreens.
How To Upgrade A Laptop's RAM And Storage
First of all, you need to check if your laptop model allows the memory to be upgraded.
Some laptops will have the DIMMs soldered onto the motherboard, so you have no way of upgrading them.
This is a common theme on extremely cheap notebooks, and even some high-end models like Macs and Razer laptops.
On laptops with upgradable memory, you simply have to look up the manufacturers guide on how to remove the bottom cover. This will give you access to both the memory and storage device.
Gaming laptops make this process extremely easy, by including a small "hatch" underneath the laptop which is usually removed by just unscrewing 2 or 4 screws.
And that gives you access to the m.2 slot, SATA drive, and SODIMM slots.
Before purchasing RAM for your laptop, make sure it is compatible. Modern laptops use DDR4, typically 2400Mhz.
Look up the spec sheet if you're not sure. Upgrading the storage is a similar process, you remove the old one and slot in the new one.
Or if there are 2 SATA slots for storage, add a second 2.5" drive.
Conclusion
All things considered, the ASUS VivoBook F512DA-NH77 is the best gaming laptop option in this price range. Some other laptops come close in terms of graphics performance, but they don't have the octacore CPU (Ryzen 7 3700U).
The Vega 10 iGPU in the Ryzen 7 3700U handily beats any Intel HD or Iris iGPU in pretty much every gaming workload, and it is also better if you're interested in compute based tasks. It even trounces AMD's own integrated Vega 6 iGPU.
What holds this otherwise amazing budget gaming laptop back, is its relatively mediocre TN display. This isn't something you can upgrade later down the line.
If you're more interested in photo and video editing instead of gaming, you can purchase the Lenovo IdeaPad 3. Its relatively color accurate and bright display is okay for Photoshop, Premiere Pro, etc.
The HP 15-ef0022nr is okay as a casual gaming laptop, but functions much better as a business/ college laptop. It is ideal for professionals and college students who want something portable, yet powerful.